Herramienta PCD en la industria automovilística
In Europe, according to research published by the European aluminum Association (EAA), the amount of aluminum used in a new car in 1990 was 50kg. By 2005, that number had risen to 132 kilograms. A further 25kg of aluminum is expected to be used in each new car by 2010. According to the study, two million tons of aluminum parts were made in new cars made in Europe in 2005. Using aluminum parts to make cars lighter could save 1 billion liters of fuel a year and reduce carbon dioxide emissions by about 40 million tons over the life of those cars. En el cuerpo de un coche, la mayoría de las piezas de aluminio se concentran en el sistema de aire acondicionado, la cubierta del motor, las partes amortiguadoras y la columna de dirección. En el chasis del automóvil y el montaje de la suspensión, las piezas de aluminio se concentran principalmente en el eje de ruedas, el soporte de suspensión y las piezas de montaje del sistema de dirección. En el sistema de transmisión de energía, la mayoría de las piezas de aluminio se encuentran en la culata, el cuerpo del cilindro, la capucha, la bomba y el refrigerador. Además, los sellos de aleación de aluminio, la carcasa corporal y las aplicaciones de chasis también están aumentando. La sustitución del acero por un material más denso como material estructural convencional también es importante en otras industrias, como la fabricación general de maquinaria y la aviación. Sin embargo, debido a que la dureza de la aleación de aluminio no es demasiado alta, y tiene una mayor resistencia, por lo que su corte es más difícil. En el procesamiento, la aleación de aluminio es fácil de unir con el material de la herramienta y aparece fenómeno de endurecimiento del trabajo en frío, por lo que en el corte de baja velocidad, el borde delantero de la herramienta es fácil de producir tumor de chip.
Corte en seco
Due to sensitivity to environmental impacts, automotive parts are increasingly being cut dry or machined with minimal coolant. The cooling cost savings (including associated waste liquid recovery and treatment costs) are also driving a significant increase in cutting speed that is not possible with conventional cemented carbide tools. Cuando se utiliza una herramienta convencional o material de herramienta para el corte en seco, el acabado superficial de la pieza de trabajo es pobre debido al cambio en la geometría del borde de corte de la herramienta y al aumento del calor causado por la fricción en la zona de corte.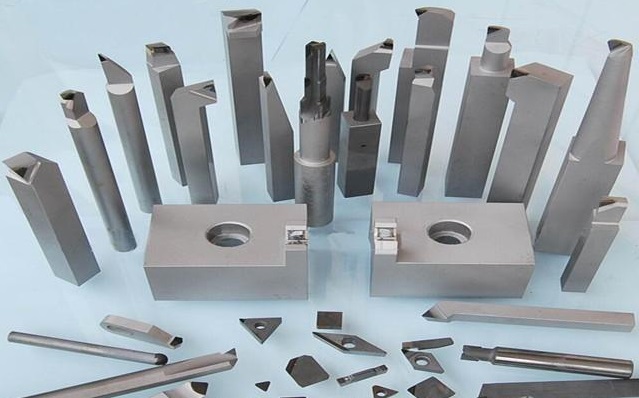 Velocidad de la máquina más alta
Last but not least, the development of machine tool technology makes its spindle speed and feed constantly improve, so as to achieve faster machining. Only a few years ago, the spindle speed of the machine tool was only 6000r/min, but now it has reached 30,000-40000r /min, and the movement acceleration of the shaft can reach 2G. This machine, supported by powerful computer power, is capable of achieving the movement required for machining (e.g., screw interpolation in thread milling).In order to convert this speed advantage into a machining advantage at the point of action, the corresponding tool material is required. However, with carbide cutting tools, the cutting speed can only reach 400m/min. Tools with polycrystalline diamond (PCD) cutting edges can cut up to 3000m/min(depending on the cutting process).In addition to higher machining speed, the main benefits of PCD tools include longer tool life and (in many cases) better surface machining quality. Jel Precision Tools, que forma parte del grupo alemán Komet, ofrece una amplia gama de herramientas PCD al mercado, incluyendo DRILLCUT y Drillmax para perforaciones PCD de alta eficiencia con cuerpo de carburo. Estos dos taladros son capaces de perforar agujeros hasta una profundidad de 5D. El DRILLCUT es un bit de ranura recta con 2 bordes de corte y 4 bordes guía y está provisto de un canal refrigerante para el enfriamiento interno.DRILLMAX también utiliza el mismo diseño interno de refrigeración, pero es un bit en espiral ranurado con 2 bordes guía.DRILLMAX precisión de posicionamiento, precisión de perforación hasta it8 - it9 y puede obtener una larga vida útil de herramienta y un buen acabado de superficie. DRILLMAX bit precisión de posicionamiento, precisión de perforación hasta it8 - it9 y puede obtener una larga vida útil de la herramienta y un buen acabado de superficie. La compañía también incluye cortadoras de ranuras PCD en su línea de productos. Durante el mecanizado, el borde de corte PCD de la herramienta se perfora en el agujero central desde la parte superior de la pieza de trabajo y luego corta el centro. La profundidad máxima de corte es hasta el doble del diámetro de la herramienta. Estas herramientas también se pueden utilizar para la molienda adecuada, así como para el mecanizado geometría circular para lograr el buen acabado de la superficie y bordes de corte sin burple. Norma 2 - Los cortadores PCD de borde tienen un diámetro mínimo de 6 mm y 3 - los cortadores de borde tienen un diámetro de 16 - 20 mm.
Alta - fiabilidad molienda de hilo
JEL is one of the few technical authorities in the field of complex internal threading, particularly when it comes to thread milling or developing specialized solutions for specific processing. The famous MGF and TO MILL thread mills are the most commonly used machining tools.MGF thread milling cutter with PCD tip has a sunk hole in the shank, and the cutter body is made of hard alloy material, especially suitable for processing aluminum alloy and other materials usually processed by PCD. The tool can mill m6-m12 standard thread sizes with a cutting edge length of 2 times a nominal diameter. Similarly, TO MILL(GWF) thread milling cutters with diameters of 16mm and 20mm can mill threads with diameters ≥20mm.In addition, JEL offers process-oriented solutions that include as many processing operations as possible.PCD tip drills and thread milling cutters (BGF) have also been developed that, in addition to producing screw holes, 90° chamfers and threads, can also produce protective countersunk holes in a single machining operation.
Ejemplos de procesamiento de piezas de automóviles
One example of the vabos-k modular tool concept (variable drilling, counterboring and thread cutting system) with bit and thread milling cutters is machining spark plug threads on die-cast aluminum. With this tool, the machining of the screw hole, 90° chamfering, spot-facing, face facing with diameter 22mm and M14×1.25 thread can be completed through one processing. All cutting elements of the tool use PCD tips. The values-k modular tool system was developed for processing where the use of indexable blades in tool clips is not possible due to shape, size, or precision requirements. To process 90° chamfering, spot facing, and face facing, the PCD cutting edge is welded directly to the vabos-k head and the head is then fixed to the cutter body or clamp, and the cutter body or clamp can be easily removed to install the new PCD cutting edge. This knife clip is a one-time purchase of accessories. Center drills and thread mills can be easily installed in place without time-consuming adjustments. Another example of a specialized tool developed by JEL is also a vabos-k tool system. The system consists of a solid carbide bit and thread milling cutter (BGF) for drilling through holes with internal threads, counter facing holes and M6 threads on aluminum shell workpiece. The salient feature of the tool is that it can process countersunk holes with a diameter of 50mm. Only the PCD tip can be used for machining at a steady maximum speed of 10000r/min (equivalent to a cutting speed of 1570m/min at a diameter of 50mm). Only in this way can a very short total processing time (3.9 seconds) be achieved. El sistema de herramientas Vabos - m para el acabado de agujeros prefabricados en carcasas de filtro de combustible cuenta con un molino de hilo PCD Tomill. El proceso de mecanizado del contorno del agujero contrasueldo, el agujero orientado al contador, el desbarbado del borde exterior y la molienda S80 × 3 hilo de diente de sierra se puede completar con una sola operación de mecanizado. El tiempo de procesamiento por agujero se puede reducir a un increíble 8,8 segundos. Una de las características de la herramienta es que el diseño del cortador de fresado de hilo permite que el primer hilo procesado en la pieza de trabajo sea un hilo completo. Mecanizado de corte circular y ranurado When contour machining is required on the inner and outer diameter of the workpiece (such as grooving in the hole and machining cavity), circular milling and turning can only be realized on the flexible machining center, and circular cutting and grooving is a feasible alternative processing method. This kind of processing will be in the lathe insert the principle of processing upside down and turning the workpiece rotation, tool static way is different, it is the workpiece static, tool movement. The tool is processed by the circular interpolation path generated by the CNC system of the machine tool into the stationary workpiece. In this process, the cutting edge of the tool is perpendicular to the tangent of the cylinder of the hole at each point in the circular interpolation path. The result is that for every turn the tool makes around the workpiece, it only turns around its axis once. The surface machined by circumferential cutting and grooving will not produce the special cutting mark surface of circumferential milling. Such tools with PCD cutting edges are also available for aluminum parts. German Komet group is composed of the Komet precision tool company, Dihart precision tool company and JEL precision tool company. The group has approximately 1500 employees around the world, engaged in the production and sales of precision cutting tools, its main technical areas are a hole, thread general processing and precision processing, special thread cutting, standard, and special PCD tools and turning tools. Komet is a market leader in mechatronics (tools with built-in NC axis for cutting edge positioning and tools with NC contorting).